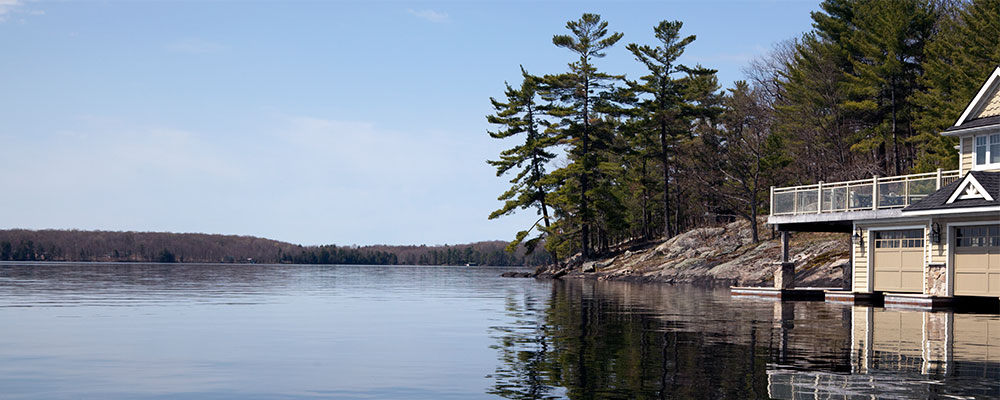 A Waterloo Biofilter is the ideal septic solution for your home or cottage
Waterloo Biofilters are sustainable septic systems that provide a permanent combination of biological treatment and physical filtration of wastewater not matched by any other treatment technology.  Our unique and patented process uses an engineered filter medium that is highly resistant to clogging, has the highest surface area-to-volume ratio in the industry, and is warranted to last at least 20 years!
Designed to work in even the most difficult sites, Waterloo Biofilters are the ideal solution for clay soils, bedrock, high water table, small lots, remote sites, and environmentally sensitive areas.  A Waterloo Biofilter works like a low-pressure membrane, providing a physical barrier that wastewater must pass through for treatment before entering the environment.  Even when the power supply is interrupted, the Waterloo Biofilter's design ensures no untreated sewage enters the environment, so you can feel confident you are protecting your family, your property, and our water supplies from contamination.
Third-party testing confirms >99% of fecal coliforms and viruses are removed by the Waterloo Biofilter before any water even reaches the soil.  The remaining <1% is easily removed as treated effluent is dispersed back into the environment by our shallow Area Bed. Virtually all organics and suspended solids are removed prior to disposal, prolonging the life of your disposal bed and significantly reducing the chances of a plugged bed which can lead to surface breakout of raw sewage and costly repair.  Our technology has been proven in many thousands of installations across North America and the world.
Waterloo Biofilters use an engineered and permanent filtration medium that is warranted for 20 years and will likely last for generations.  Waterloo Biofilter systems have few moving parts and require very little energy to operate, even less than recirculating sand filters.  Maintenance requirements are simple and infrequent.  Residential treatment units are available in several different below or above-ground configurations, each suited to different site geographies and the homeowner's aesthetic preferences.  Our warranty is one of the best in the business and is transferable, adding resale value to your home.
The Waterloo Biofilter system also removes up to 65% of total nitrogen, helping to reduce health and environmental problems associated with excessive concentrations of nitrogen and its subspecies in surface and ground waters.  The small system footprint coupled with high levels of nitrogen removal can allow for increased development densities in rural subdivisions, and can allow previously unsuitable land to be developed for housing.